The 2021 Subaru Love Promise Community Commitment Award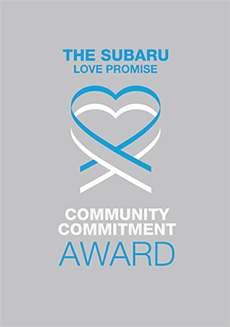 We've been nationally recognized for our dedication to our community and the Subaru Love Promise.
We're honored to receive the 2021 Subaru Love Promise Community Commitment Award. This award nationally recognizes Subaru retailers who are making the world a better place while demonstrating an outstanding commitment to supporting passions and causes in local communities. These efforts are focused in important areas such as the environment, community, health, education, and pets.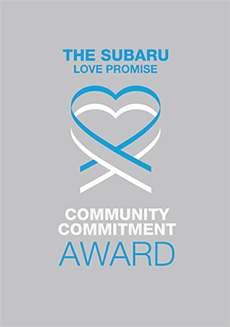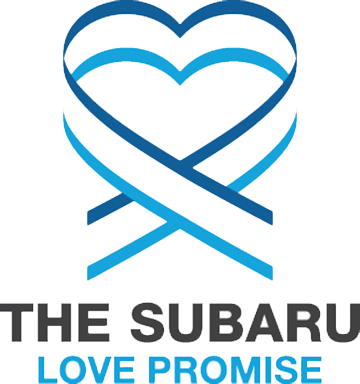 What is the Subaru Love Promise?
Subaru and our retailers believe in making the world a better place and the Subaru Love Promise is our vision of respecting all people. This is our commitment to show love and respect to our customers and to work to make a positive impact in the world.
How is Fitzgerald Subaru dedicated locally to the Love Promise?
Our Love Promise can be seen in various partnerships with local charities and non-profits. We're grateful for the opportunity, not only to be a part of our community, but to serve it as well.
Humane Rescue Alliance, Pets with Disabilities, Hero Dogs
Wind/Solar Energy, William Tyler Page Elementary School
Don Bosco High School Corporate Work Study, Holy Cross School
Child Safety Seat Inspection, Yellow Ribbon Fund
Mobile Med, Leukemia & Lymphoma Society, National Capital Area
Love Promise Stories from Fitzgerald Subaru
Subaru and Fitzgerald Subaru believe in making a positive impact on the communities in which we live and work. We uphold that belief through our Love Promise Community Commitment. Every month, we select inspiring stories from customers and partners from around our area who strive to support our collective commitment and feature them here
Discovering the Power of the Written Word - Arianna R
"I was excited to have our students exposed to this performing arts opportunity and appreciative of your organization's provision to the school in this virtual experience…Students don't get to see other kids…a normal part of the school day that many students took for granted. Seeing other students at a (virtual) school performance made it feel like regular school for a few moments and that was priceless." Dorothea Fuller, Principal of Galway Elementary School. Fitzgerald Auto has been the backbone support of so many elements of Story Tapestries that it is hard to select what we should highlight for this brief story. They are true gifts as they are constantly thinking about how they can support the community and consequently Story Tapestries. Their support this year grew beyond a simple donation to a partnership that values the power of the arts to impact learning. The shift began with a conversation with Dottie Fitzgerald. We shared with her the urgent issue that we were facing during the COVID-19 pandemic. Families did not have the tools they needed to support strong, passionate, committed, thoughtful learners. The youth were failing and the education gap was growing. Parents were mentally exhausted and worried about how to make ends meet while also helping their children be successful. Story Tapestries had a proven solution: Give the students equitable access to supplies and learning opportunities, as a result, they will expand their minds and discover a LOVE of learning!! Most recently, a teacher at Charles Drew Elementary School said "Jonathan, he struggles to learn. He has not given an authentic answer all year. But this past month he wrote four poems. He has shined. He came out of his shell." Another teacher told me that her students treasure the supplies they received like they are gold because before we sent them their journals, they used to do their math on paper towels. After listening, Dottie and her team truly stepped up. They made a donation so that we could get started buying supplies and providing effective online programs. Furthermore, after speaking with their managers, they immediately set in motion a supply drive with 2 of their dealerships. In a short period of time, they collected 1,140 items that we used to put together 400 arts and literacy kits! Dottie and her team do this work not because they have to, but because they believe in the power of the arts to change the community and develop lifelong learners.
---
FITZGERALD SUBARU BRINGING PETS & PEOPLE TOGETHER - Laura S
Dottie Fitzgerald has long been passionate about creating change in her community. From her position as Vice President of Fitzgerald Auto Mall, which represents multiple dealerships across three states, Dottie is a dedicated advocate for many causes, including animal welfare. Since 2013, Fitzgerald has partnered with the Humane Rescue Alliance (HRA) to promote adoptions and raise money and support for our critical programs and services, and to date, HRA has received more than $275,000 through these campaigns. Last year was an exceptional year and the Fitzgerald team stepped up in more ways than ever! When the pandemic hit, the Fitzgerald team delivered two Subaru vehicles packed with pet food, supplies, and toys to our adoption center. The donation helped keep our animals enriched as we sadly had to close our doors to the public. During the 2019 Subaru Share the Love Drive, Dottie and the team at Fitzgerald Subaru raised an incredible $38,000 for HRA animals. While we couldn't be together in person, we were thrilled to connect for a virtual conversation and check presentation between Dottie and Lisa LaFontaine, HRA's President and CEO. The Subaru Loves Pets event was a fantastic opportunity for HRA and our animals to interact with the community. For the first time since March, we were finally able to have an in-person (outdoor) adoption event again. Through this partnership, we were able to show people that despite these difficult times, we are still working tirelessly to help communities and bring joy to them. People were beyond excited to meet their new best friends. Seeing families grow is genuinely heartwarming. All animals, who otherwise would have had to stay in a shelter, went home to live their best lives. The team pulled out all the stops to make this a safe, physically distant event. We heard from a family who adopted a cat from HRA over three years ago who joined their two 20-year old beloved cats, becoming one big happy family. Sadly, their dear senior cats passed away earlier this year, leaving the family heartbroken. At this adoption event, the family welcomed two new cats (now named Eleanor and Martha) who have brought much joy and happiness into their home. They have bonded well with their adopted HRA alum, who are now all friends. "It's been such a smooth transition, and their presence has really helped my husband, and I heal from the loss of our elderly cats, who we miss very much. And when I need to buy a new car, I will absolutely purchase the car from that Subaru dealership!". In October, the team invited HRA's senior dog, Ladybell, to be the star of their "Make A Dog's Day" commercial highlighting the plight of senior dogs. Ladybell's story is remarkable. We got a call last July about a dog who was so weak she couldn't stand. When our team arrived at the Fort Totten Metro tracks, they were heartbroken by what they found. This sweet dog was desperately injured and emaciated. She was covered in blood and parasites. Our officers picked her up gently and transported her to the hospital to try and save her life. When she arrived, it was even worse than we thought. She has what appear to be stab wounds on her face and the back of her head. There are many other unidentified wounds on her back. One of her eyes was infested with thousands of maggots, and a wound on the back of her head was so violently deep it fractured her skull. Ladybell was in immense pain, and she was terrified. It brings us great joy to share that today our beloved Ladybell is making great strides and is on the road to recovery. Ladybell is gaining confidence and learning to walk independently after an HRA staff member welcomed Ladybell into her loving home. She is now getting round-the-clock care from one of our most experienced families! The Fitzgerald team also supported and sponsored HRA's 2021 pet calendar contest. Several associates entered their pets into the calendar and upvoted each other with multiple four-figure gifts! The calendar fundraiser was followed by Fitzgerald's sponsorship of our annual gala, Bark Ball Reimagined, which went virtual last year. As she always does, Dottie made a personal contribution and even entered into a bidding war for one of our most popular items! And it doesn't end here. The team once again hosted two outdoor adoption events in December for Subaru Shares the Love that culminated in 72 animals finding their forever homes in 2020! Thank you, Dottie and the entire Fitzgerald team! We couldn't do what we do without you!
---
Animals Find a Home for the Holidays - Cyndy M
I am a long time volunteer at the Humane Rescue Alliance and the Fitzgerald adoption events have always been one of the most rewarding activities, not only because they are fun, but because so many animals find wonderful homes. The showrooms are decorated, there are plenty of snacks, coffee, and doughnuts, raffles, and goody bags and pictures of adopted animals and their new families. I knew Fitzgerald would find a way to provide a safe and successful event during the pandemic. They decked out the service center with holiday decor and a fun holiday themed backdrop for photos, served hot coco and more! I heard the ads for the event on the radio, and sure enough, when I arrived at the event an hour before it's scheduled start, there was a line of masked people, appropriately socially distanced winding outside the event excitedly. Over twenty animals found homes that day. And more than twenty families found a non judgmental new furry friend to help ease the stress and loneliness of the pandemic. I am so in awe of all this dealership does for our shelter - -thank you to everyone at the Fitzgerald dealership!
---
Blanketing Rainbow Place Shelter with Kindness - Nina B
The Fitzgerald family has been a financial supporter of Rainbow Place Shelter for many years, but this year we got an extra surprise when Blanca Posada of Fitzgerald Subaru told us that they wanted to get more involved. This week, Blanca and Katie Hall stopped by with 40 fleece blankets, and they are not stopping there! They plan to bring warm pajamas and other items on our wish list in the future and asked us to let them know what else we need. The world has changed a lot this year. Even the way we take donations has changed. While donors used to come up to the shelter with their gifts, now we greet our donors in the parking lot and everyone keeps their masks on. One thing has not changed though, even though it's a little harder to see. We are smiling under our masks because we know we live in a community that truly cares about its neighbors. Thank you Fitzgerald Subaru for being part of our community!
---
Subaru Loves Pets - Laura S
Subaru Loves Pets was an amazing opportunity for Humane Rescue Alliance (HRA), and our animals to interact with the community at the Rockville adoption event- the first in person event we've had since March. Through this partnership, we were able to show people that despite these difficult times we are still working tirelessly to help communities and bring joy to them. People were beyond excited to meet their new best friends. Seeing families grow is truly heartwarming. All animals, who otherwise would have to stay in a shelter, went home to live their best lives. This would not have happened without the leadership and support from the Fitzgerald team and the Subaru Loves Pets promotion.
---
Fitzgerald Shares the Love in Times of Crisis - Laura S
At the Humane Rescue Alliance, we're dedicated to protecting animals and to placing and keeping them with caring families. This doesn't stop during a pandemic and thanks to our friends at Fitzgerald, as we unfortunately had to close our doors, they came with a special delivery of amazing food, toys and supplies. The staff and the animals loved them! There is so much we cannot control these days, but we take comfort in knowing that our community partners continue to show up for the animals of our community in a big way. Thank you Dottie and the entire Fitzgerald team! We couldn't do what we do without you!
---
Fitzgerald Subaru's Impact at Don Bosco Cristo Rey - Layla F
The team at Fitzgerald Subaru is truly committed to making a difference in their community. Since Don Bosco Cristo Rey opened in 2007, Fitzgerald Subaru has been a proud corporate partner and job team supervisor. Over the years, Fitzgerald Subaru has furthered DBCR's vision of developing leaders who will succeed in college by employing and mentoring more than 50 students. Our students have gained valuable professional experience, such as event planning, office management, and relationship building because of the individuals on Fitzgerald's team. Fitzgerald Subaru believes so much in our students, they have even hired four of our alumni in full-time positions after graduation. Fitzgerald Subaru is always actively looking to get involved at our school. They attend events, check in with their student workers, and provide scholarships for students' tuition. They truly are making education available to the kids in their community. We aren't able to make the impact we do without amazing partners like Fitzgerald Subaru of Gaithersburg and Rockville. We are beyond grateful for their support.
---
Fitzgerald Subaru Helps 8 Animals Find Homes! - Andrea M
The team at Fitzgerald Subaru goes above and beyond to support the Humane Rescue Alliance's community of animals and the people who love them. We were fortunate to partner with Fitzgerald Subaru at the October 12th Subaru Loves Pets event. It was a fantastic day, and eight animals were adopted in loving homes! The Fitzgerald team was generous throughout the entire process. They actively promoted the event, filled the room with enthusiastic adopters and supporters, provided our volunteer team with breakfast, and actively worked with the dogs throughout the day. We are grateful for the support of Fitzgerald Subaru who continues to help our animals find loving homes and help pet owners access critical resources to keep their animal family members healthy and well.
---
Fitzgerald Subaru Gives Back at Light The Night! - Jenn B
The Leukemia & Lymphoma Society (LLS) would like to recognize and thank Fitzgerald Subaru of Gaithersburg and Rockville for supporting our local Light The Night Walk in Rockville, Maryland for a third year in a row! Over these past few years, the Fitzgerald Subaru team has helped spread our mission of curing blood cancers to their staff, customers, local business partners, and local hospitals through Light The Night and Subaru Cares blanket deliveries, while raising an incredible $12,500+ for our Light The Night campaign! Funds raised for Light The Night go towards the three pillars of our mission: research, patient access, and policy and advocacy. Since 2017,51 new blood cancer treatments have been approved by the FDA, and 45 of these were directly funded by LLS. We aren't able to make the impact we do without amazing partners like Fitzgerald Subaru of Gaithersburg and Rockville. This year specifically, Fitzgerald Subaru increased their presence in the local community at our Rockville Light The Night Walk by agreeing to be our Red Lantern Holder. Two employees from the Rockville and Gaithersburg locations came up on stage, had Subaru Fitzgerald's story read to all of our participants, and led the lighting of our red lanterns, which are for anyone who supports LLS's mission. It was absolutely beautiful, and we are so thankful for Fitzgerald Subaru's commitment to this community and to Light The Night.
---
Animals. People. Commuity. - Dani R
The team at Fitzgerald Subaru Rockville came through in a big way for both the people and animals of our community. Recently, they hosted a successful food drive, collecting food for people and pets at all of their service and sales locations in Montgomery County. When a car full of pet food donations arrived at the Humane Rescue Alliance later that month our staff was ecstatic. Supported by public donations, HRA's Pet Pantry program was created to help residents in caring for their pets by providing free supplemental pet food to those who indicate the need. We are so thankful to have the continued support of Fitzgerald Subaru, who continue to help us make these critical resources available to pet owners in our community.
---
Fitzgerald Subaru Lights The Night to Beat Cancer - ArDonna H
For the past 2 years, Fitzgerald Subaru has helped bring light to the darkness of cancer through walking in The Leukemia & Lymphoma Society's Montgomery County, MD Light The Night. Fitzgerald Subaru has raised over $6K for blood cancer cures and patient services and is currently in the top 10 corporate teams in Montgomery County, MD this year. Additionally, the Fitzgerald Subaru team has been an incredible supporter of patients at Children's Hospital and annually delivers blankets to patients currently battling cancer. The light that shines through the Fitzgerald team has brought warmth, joy, and comfort to countless families. The National Capital Area Chapter of The Leukemia & Lymphoma Society and the patients and families we serve are eternally grateful for their support.
---
Hero Dogs Bert is on the job! - Nikki C
Hero Dogs, Inc. is a local 501(c)3 organization whose mission is to improve quality of life for our nation's heroes by raising, training, and placing service dogs and other highly skilled canines, free of charge with lifetime support of the partnerships. We rely heavily on the support of volunteers particularly when our dogs are in the puppy program (8 weeks - 18 months old). During this stage, puppies live with volunteer puppy raisers who are responsible for teaching their puppies house manners, all of their basic commands, and numerous foundation skills for service dogs. To assist them in this important job, puppy raisers bring their puppies to a training class at Hero Dogs once a week while they have the puppies. Puppy raisers take their puppies everywhere they go in the community so that the puppies are exposed to and comfortable in virtually any environment they may encounter later in life when working with their Veteran or first responder partners. It is a tremendous commitment and sacrifice to raise a service dog. In May of 2018, Hero Dogs Bert was partnered with puppy raiser, Katie Hall, a Fitzgerald Auto Mall team member. Since then, Bert can be seen working alongside Katie in the Rockville dealership, greeting customers, learning new skills and preparing for a life of service with a Veteran or first responder living with a disability. Going above and beyond, Ms. Dottie Fitzgerald extended her commitment by providing a puppy scholarship for Bert offsetting all of Bert's training costs while he is in the puppy program. Hero Dogs cannot thank the Fitzgerald Team enough for welcoming Bert and supporting our programs!
---
Holy Cross School Loves Fitzgerald Subaru! - Christine Z
With hearts full of gratitude, Holy Cross School thanks Fitzgerald Subaru for their generous donation of science books! Fitzgerald Subaru's gift of books has enabled all of our students to expand their access to high-quality science trade books. For example, students in Seventh Grade will read the highly acclaimed "The Great Monkey Rescue: Saving the Golden Lion Tamarins" to help understand how habitat fragmentation is affecting the biodiversity in the rainforest. Holy Cross School applauds Fitzgerald Subaru's belief in corporate social responsibility and we are grateful to be a beneficiary of their generosity and the outstanding example. Thank you, Fitzgerald Subaru, for helping Holy Cross School to fulfill its mission to provide a rigorous academic environment where students are inspired to become compassionate, competent, and faith-centered leaders now and for future generations.
---
Creating Change for Animals with Creativity - Kit G
Dottie Fitzgerald has long been passionate about creating change in her community. From her position as Vice President of Fitzgerald Auto Malls, which represents twelve dealerships across three states, Dottie is a dedicated advocate for many causes, including animal welfare. Since 2013, Fitzgerald has partnered with the Humane Rescue Alliance to promote adoptions, participate in events, and raise money to support our programs. "I so admire the heroes of rescue - they are angels on earth and they have accomplished much, there is so much more to be done," said Dottie Fitzgerald. "You can stroke a check and go on your way, or, you can find a way to do more." Through this partnership with Fitzgerald, HRA is given the opportunity to host several adoption events outside of the District and reach a wider range of potential adopters. These events have changed the lives of more than 200 animals who have found their forever homes at Fitzgerald events, and countless others that have benefited from Fitzgerald's ongoing pet food and supply drives. Fitzgerald has also helped HRA build and strengthen partnerships with other companies like Subaru through their Share the Love and Subaru Loves Pets programs, which donate a portion of sales of each new car sold or leased. As a Hometown Charity partner selected by Fitzgerald Auto Mall, the Share the Love program has raised over $160,000 since 2015 to support HRA's work in the community. By building this connection, Fitzgerald is contributing to a robust and diverse funding stream to keep HRA's programs strong and ultimately, help more animals find loving homes. Dottie and her team at Fitzgerald Auto Mall are clearly dedicated to promoting positive change in our community, for people and animals alike. And, by thinking "outside the box," they have created an adoption community within their customer base. "While adoption events are expected at animal support retailers, what about other retailers? How about your local auto dealership?" Dottie continued. "Thanks to our many loyal customers and caring associates, we have some name recognition and a good database. We held our first adoption event in December 2013 and we received such positive feedback, we decided we could do more to raise awareness of the joy of adoption. By holding events every other month, rotating through our Montgomery and Frederick Counties (Maryland) locations, we have been credited with over 200 adoptions to date." HRA is extremely grateful for Fitzgerald's efforts in support of our work and we are humbled by their continued commitment to our mission for animals.
---
I dreaded buying a new car - Patricia W
An accident forced me to buy a new car. Having looked into it a few months ago and being inundated with emails and phone calls, I was dreading the process. I looked online at Fitzgerald and when I saw that phone number was not a required I was elated. The following day I received an email from Malachi. I did a test drive that day with him. He was great. Very knowledgeable and personable I decided to go home and look online at the available cars (thanks in part to Malachi's encouragement) and found the car that was perfect. Initially, I had rejected it because it was the most expensive on the lot. But when I read about the options I knew they were perfect for me and my big dog. I purchased the car 2 days later and was delighted to meet Dottie. I had my dog with me and it took about 30 seconds for her to bring up a friend of mine that loves Fitzgerald because of their dog-friendly attitude. I chose to pick the car up later in the week as I had a rental car to return and other things to take care of. When I picked up my car it was like visiting an old friend. Malachi politely asked if it was okay to have Dottie come to see us. He was concerned that I might be in a hurry. Dottie and Katie came down and gave me a lovely gift bag. My dog loves her Crosstrek toy. I cannot believe I am saying this...but I am actually looking forward to my first service appointment. I am happy to be part of the Subaru and Fitzgerald Family.
---
Thank You Fitzgerald for Sharing Hope & Warmth! - Jenny H
On Thursday, July 19th both of the Fitzgerald Subaru teams came together to deliver blankets to Children's National Medical Center. Both groups were incredibly excited to be able to provide more blankets and arts & craft kits to the hospital. One of the Subaru team members who had joined the delivery the year before was so excited to come back again that she brought extra toys to donate along with the blankets! In addition to all of the excitement, Katie Hall, another Subaru team member, had a service dog in training with her - the puppy got to know the LLS staff pretty quickly and was a great start to a Subaru Loves to Care delivery day! All in all it was a great day and the patients at Children's National were so grateful for Subaru's generous donation.
---
High School students visit Fitzgerald Subaru - Richard G
Montgomery County Public Schools would like to thank Ms. Dottie Fitzgerald and the entire Fitzgerald automotive family for hosting a tour for our automotive students from Thomas Edison High School on November 28th. Fitzgerald Subaru invites our automotive students to come over every school year so that they may see the entire operation from the initial customer interaction and sales dept. to the behind the scenes process of repairing vehicles, ordering parts, and detailing them for delivery. This year we had over 70 students attend this great experience. The Fitzgerald team have been an integral part of helping Montgomery County Students Automotive Trades Foundation (MCSATF) shape and prepare our automotive students for careers for over 40 years!!
---
Fitzgerald Subaru Helps 14 Animals Find Homes! - Dani R
The Humane Rescue Alliance's (HRA) partnership with Fitzgerald Subaru has brought joy to not only our animals and adopters, but to our volunteers and staff members too. HRA Adoptions Outreach Coordinator Ceci said, "I was so excited to be part of the ASPCA and Subaru Loves Pets fee-waived adoption event. The staff was incredibly welcoming and they made sure all HRA staff and volunteers felt valued and at home!" Even better, through this incredible partnership we were able to find loving, forever homes for 14 animals! We are so grateful for their continued support of the more than 60,000 animals whose lives we touch each year. Thank you Dottie and the Fitzgerald Subaru team. We couldn't do what we do without you!
---
Fitzgerald Subaru Helps Homeless Animals! - Matt W
There are partners and then there is family. The good folks at Fitzgerald Subaru - led by the incomparable Dottie Fitzgerald - have been nothing short of fantastic to work with for the Humane Rescue Alliance, truly becoming part of our family. Our partnership began in 2013 and has grown to be so much more. The team at Fitzgerald Subaru regularly hosts pet adoption events at their locations, helping us find homes for hundreds of homeless dogs, cats, puppies, kittens....even a rabbit or two! Fitzgerald's generosity continues this fall when we celebrate. "Subaru Loves Pets", with a fee-waived adoption event at Fitzgerald Subaru Rockville. And of course, in December, we have our Share the Love events -- all hosted by Dottie and her team at Fitzgerald Subaru. Last year, Fitzgerald Subaru came through with an amazing $75,000 to help HRA serve the 60,000 animals we touch each year. Thank you Dottie and the Fitzgerald Subaru team! We couldn't do what we do without you!
---
Fitzgerald Subaru Loves to Care! - Jenny H
The July 17th delivery to Children's National Medical Center in Washington, D.C. was especially meaningful for Wendy Medrano from Fitzgerald Subaru of Rockville. During the visit, Wendy shared with Fernanda Vessio, the Children's Volunteer Services Manager, how she will be attending George Mason University as a Biology major, and a dream of becoming a pediatrician. "The experience was amazing, you had the power to make patients happy and feel better. It allowed you to see life in a whole different perspective and see that we, the community, are able to make others happy even if we don't know the person." Wendy later shared with us. Wendy, along with her colleagues Katie Hall and Wendy Chavez brought 80 blankets, 10 arts and crafts kits, and messages of hope for pediatric patients and also met Honored Hero, Michael Erlandson, his brother and sister and mom, Sandi. During their visit, Katie and both Wendy's received a tour of the Emergency department with the Children's staff where they were able to personally give blankets and craft kits to children.
---
Subaru Loves Learning Book Drive August 1 - 31 - Danielle S
Join us in our Subaru Loves Learning initiative during the month of August! We are partnering with the American Association for the Advancement of Science (AAAS) in donating science books to Holy Cross School. All of the books that will be donated have been recognized by AAAS as some of the best science books in their field. Contact us to learn more information.
---
Fitzgerald Subaru Loves Animals! - Matt W
On April 18, 2015, Fitzgerald Auto Malls hosted a pet adoption event and celebrated the second year of partnering with the Washington Animal Rescue League (WARL). The showroom was bustling with the sounds of jangling of new car keys and the happy barks and meows from pets that found new "furever" homes! Twenty homeless dogs and cats from WARL were available for adoption. In addition, Fitzgerald Auto Malls presented checks worth over $33,000 to WARL. The two Maryland Fitzgerald Subaru dealerships in Rockville and Gaithersburg raised the funds last December in the "Subaru Share the Love" event. "This is about making a difference for all our four-legged friends, and we appreciate the partnership with both WARL and with Subaru to make this possible," said Dottie Fitzgerald, President of Fitzgerald Subaru. "Fitzgerald Subaru has been a true friend, not just to WARL, but to the countless dogs and cats, puppies and kittens, that are now a part of a loving family because of the pet adoption events at their many dealerships," said Bob Ramin, CEO of WARL. Fitzgerald continues to accept tangible items like pet food and supplies, and other support for WARL on a monthly basis as a part of their "Stuff A Subaru" campaign. To view the interview with Dottie Fitzgerald and WARL on News Channel 8, please highlight and right click this link, https://youtu.be/NKB_bcyhLMg
---
Subaru Loves the Earth - E-Waste Event - Danielle S
We would like to thank our customers for participating in our E Waste Recycling event during the month of April. With your help, we were able to prevent 2,103 lbs of carbon emissions from polluting the atmosphere. This is equivalent to saving 81 trees, 358 gallons of gasoline, 3,048 plastic bottles, and 14,019 aluminum cans. Thank you for helping strengthen the Subaru Love Promise!
---
April 1-30, 2015 E-Waste Recycling Event - Molly M
Throughout the month of April, we are hosting an E-Waste Recycling Event in our store to collect unwanted electronics. We've arranged to work with a company who will responsibly collect, re-purpose, and recycle your electronic waste. Help us protect our environment. Just show up with your E-Waste and we'll do the rest! The first 50 customers who contribute will receive a complimentary environmental badge of ownership. We will accept: LCD Monitors, Cell Phones, Laptops, Tablets, CRTs up to 40, Video Games/Consoles, Fax Machines, DVD/VCR Players, Printers, Computer Peripherals, Switches/Routers, Cords and Wires.
---