The 2021 Subaru Love Promise Community Commitment Award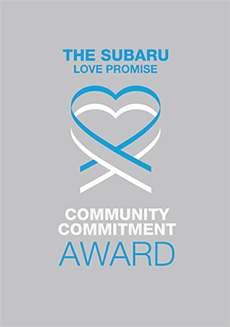 We've been nationally recognized for our dedication to our community and the Subaru Love Promise.
We're honored to receive the 2021 Subaru Love Promise Community Commitment Award. This award nationally recognizes Subaru retailers who are making the world a better place while demonstrating an outstanding commitment to supporting passions and causes in local communities. These efforts are focused in important areas such as the environment, community, health, education, and pets.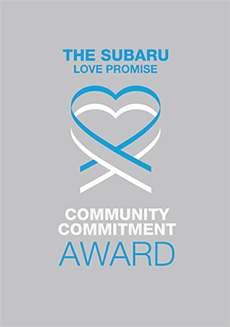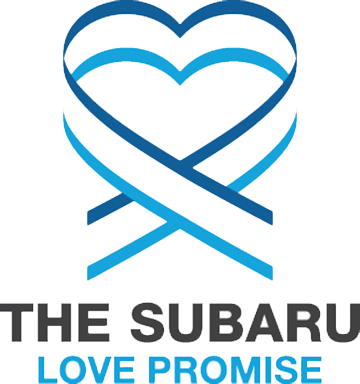 What is the Subaru Love Promise?
Subaru and our retailers believe in making the world a better place and the Subaru Love Promise is our vision of respecting all people. This is our commitment to show love and respect to our customers and to work to make a positive impact in the world.
How is Fitzgerald Subaru dedicated locally to the Love Promise?
Our Love Promise can be seen in various partnerships with local charities and non-profits. We're grateful for the opportunity, not only to be a part of our community, but to serve it as well.
Humane Rescue Alliance, Pets with Disabilities, Hero Dogs
Wind/Solar Energy, William Tyler Page Elementary School
Don Bosco High School Corporate Work Study, Holy Cross School
Child Safety Seat Inspection, Yellow Ribbon Fund
Mobile Med, Leukemia & Lymphoma Society, National Capital Area
Love Promise Stories from Fitzgerald Subaru
Subaru and Fitzgerald Subaru believe in making a positive impact on the communities in which we live and work. We uphold that belief through our Love Promise Community Commitment. Every month, we select inspiring stories from customers and partners from around our area who strive to support our collective commitment and feature them here
Fitzgerald Subaru Rockville Loves Pets - Laura S
During Subaru's Loves Pets month, Humane Rescue Alliance was once again invited by Dottie and the Fitzgerald team to be chosen participants for this campaign. Not only do the funds help us take care of animals in our care by supporting animal care, medical and behavior needs, as well as the rescue work we perform, HRA was invited to host an adoption event at the dealership. It was a beautiful autumn day accompanied with autumn themed pumpkins with our animals names' carved into them, chalk drawings on the ground, hay stacks and blankets for our dogs and even some warm cocoa for the humans. We had 10 adoptions, thanks to the Rockville team for hosting us and all the work they put into the event, it truly lives up to the name Fitzgerald Subaru "Loves Pets".
---
Discovering the Power of the Written Word - Arianna R
"I was excited to have our students exposed to this performing arts opportunity and appreciative of your organization's provision to the school in this virtual experience…Students don't get to see other kids…a normal part of the school day that many students took for granted. Seeing other students at a (virtual) school performance made it feel like regular school for a few moments and that was priceless." Dorothea Fuller, Principal of Galway Elementary School. Fitzgerald Auto has been the backbone support of so many elements of Story Tapestries that it is hard to select what we should highlight for this brief story. They are true gifts as they are constantly thinking about how they can support the community and consequently Story Tapestries. Their support this year grew beyond a simple donation to a partnership that values the power of the arts to impact learning. The shift began with a conversation with Dottie Fitzgerald. We shared with her the urgent issue that we were facing during the COVID-19 pandemic. Families did not have the tools they needed to support strong, passionate, committed, thoughtful learners. The youth were failing and the education gap was growing. Parents were mentally exhausted and worried about how to make ends meet while also helping their children be successful. Story Tapestries had a proven solution: Give the students equitable access to supplies and learning opportunities, as a result, they will expand their minds and discover a LOVE of learning!! Most recently, a teacher at Charles Drew Elementary School said "Jonathan, he struggles to learn. He has not given an authentic answer all year. But this past month he wrote four poems. He has shined. He came out of his shell." Another teacher told me that her students treasure the supplies they received like they are gold because before we sent them their journals, they used to do their math on paper towels. After listening, Dottie and her team truly stepped up. They made a donation so that we could get started buying supplies and providing effective online programs. Furthermore, after speaking with their managers, they immediately set in motion a supply drive with 2 of their dealerships. In a short period of time, they collected 1,140 items that we used to put together 400 arts and literacy kits! Dottie and her team do this work not because they have to, but because they believe in the power of the arts to change the community and develop lifelong learners.
---
FITZGERALD SUBARU BRINGING PETS & PEOPLE TOGETHER - Laura S
Dottie Fitzgerald has long been passionate about creating change in her community. From her position as Vice President of Fitzgerald Auto Mall, which represents multiple dealerships across three states, Dottie is a dedicated advocate for many causes, including animal welfare. Since 2013, Fitzgerald has partnered with the Humane Rescue Alliance (HRA) to promote adoptions and raise money and support for our critical programs and services, and to date, HRA has received more than $275,000 through these campaigns. Last year was an exceptional year and the Fitzgerald team stepped up in more ways than ever! When the pandemic hit, the Fitzgerald team delivered two Subaru vehicles packed with pet food, supplies, and toys to our adoption center. The donation helped keep our animals enriched as we sadly had to close our doors to the public. During the 2019 Subaru Share the Love Drive, Dottie and the team at Fitzgerald Subaru raised an incredible $38,000 for HRA animals. While we couldn't be together in person, we were thrilled to connect for a virtual conversation and check presentation between Dottie and Lisa LaFontaine, HRA's President and CEO. The Subaru Loves Pets event was a fantastic opportunity for HRA and our animals to interact with the community. For the first time since March, we were finally able to have an in-person (outdoor) adoption event again. Through this partnership, we were able to show people that despite these difficult times, we are still working tirelessly to help communities and bring joy to them. People were beyond excited to meet their new best friends. Seeing families grow is genuinely heartwarming. All animals, who otherwise would have had to stay in a shelter, went home to live their best lives. The team pulled out all the stops to make this a safe, physically distant event. We heard from a family who adopted a cat from HRA over three years ago who joined their two 20-year old beloved cats, becoming one big happy family. Sadly, their dear senior cats passed away earlier this year, leaving the family heartbroken. At this adoption event, the family welcomed two new cats (now named Eleanor and Martha) who have brought much joy and happiness into their home. They have bonded well with their adopted HRA alum, who are now all friends. "It's been such a smooth transition, and their presence has really helped my husband, and I heal from the loss of our elderly cats, who we miss very much. And when I need to buy a new car, I will absolutely purchase the car from that Subaru dealership!". In October, the team invited HRA's senior dog, Ladybell, to be the star of their "Make A Dog's Day" commercial highlighting the plight of senior dogs. Ladybell's story is remarkable. We got a call last July about a dog who was so weak she couldn't stand. When our team arrived at the Fort Totten Metro tracks, they were heartbroken by what they found. This sweet dog was desperately injured and emaciated. She was covered in blood and parasites. Our officers picked her up gently and transported her to the hospital to try and save her life. When she arrived, it was even worse than we thought. She has what appear to be stab wounds on her face and the back of her head. There are many other unidentified wounds on her back. One of her eyes was infested with thousands of maggots, and a wound on the back of her head was so violently deep it fractured her skull. Ladybell was in immense pain, and she was terrified. It brings us great joy to share that today our beloved Ladybell is making great strides and is on the road to recovery. Ladybell is gaining confidence and learning to walk independently after an HRA staff member welcomed Ladybell into her loving home. She is now getting round-the-clock care from one of our most experienced families! The Fitzgerald team also supported and sponsored HRA's 2021 pet calendar contest. Several associates entered their pets into the calendar and upvoted each other with multiple four-figure gifts! The calendar fundraiser was followed by Fitzgerald's sponsorship of our annual gala, Bark Ball Reimagined, which went virtual last year. As she always does, Dottie made a personal contribution and even entered into a bidding war for one of our most popular items! And it doesn't end here. The team once again hosted two outdoor adoption events in December for Subaru Shares the Love that culminated in 72 animals finding their forever homes in 2020! Thank you, Dottie and the entire Fitzgerald team! We couldn't do what we do without you!
---
Animals Find a Home for the Holidays - Cyndy M
I am a long time volunteer at the Humane Rescue Alliance and the Fitzgerald adoption events have always been one of the most rewarding activities, not only because they are fun, but because so many animals find wonderful homes. The showrooms are decorated, there are plenty of snacks, coffee, and doughnuts, raffles, and goody bags and pictures of adopted animals and their new families. I knew Fitzgerald would find a way to provide a safe and successful event during the pandemic. They decked out the service center with holiday decor and a fun holiday themed backdrop for photos, served hot coco and more! I heard the ads for the event on the radio, and sure enough, when I arrived at the event an hour before it's scheduled start, there was a line of masked people, appropriately socially distanced winding outside the event excitedly. Over twenty animals found homes that day. And more than twenty families found a non judgmental new furry friend to help ease the stress and loneliness of the pandemic. I am so in awe of all this dealership does for our shelter - -thank you to everyone at the Fitzgerald dealership!
---
Blanketing Rainbow Place Shelter with Kindness - Nina B
The Fitzgerald family has been a financial supporter of Rainbow Place Shelter for many years, but this year we got an extra surprise when Blanca Posada of Fitzgerald Subaru told us that they wanted to get more involved. This week, Blanca and Katie Hall stopped by with 40 fleece blankets, and they are not stopping there! They plan to bring warm pajamas and other items on our wish list in the future and asked us to let them know what else we need. The world has changed a lot this year. Even the way we take donations has changed. While donors used to come up to the shelter with their gifts, now we greet our donors in the parking lot and everyone keeps their masks on. One thing has not changed though, even though it's a little harder to see. We are smiling under our masks because we know we live in a community that truly cares about its neighbors. Thank you Fitzgerald Subaru for being part of our community!
---
Subaru Loves Pets - Laura S
Subaru Loves Pets was an amazing opportunity for Humane Rescue Alliance (HRA), and our animals to interact with the community at the Rockville adoption event- the first in person event we've had since March. Through this partnership, we were able to show people that despite these difficult times we are still working tirelessly to help communities and bring joy to them. People were beyond excited to meet their new best friends. Seeing families grow is truly heartwarming. All animals, who otherwise would have to stay in a shelter, went home to live their best lives. This would not have happened without the leadership and support from the Fitzgerald team and the Subaru Loves Pets promotion.
---
Fitzgerald Shares the Love in Times of Crisis - Laura S
At the Humane Rescue Alliance, we're dedicated to protecting animals and to placing and keeping them with caring families. This doesn't stop during a pandemic and thanks to our friends at Fitzgerald, as we unfortunately had to close our doors, they came with a special delivery of amazing food, toys and supplies. The staff and the animals loved them! There is so much we cannot control these days, but we take comfort in knowing that our community partners continue to show up for the animals of our community in a big way. Thank you Dottie and the entire Fitzgerald team! We couldn't do what we do without you!
---
Fitzgerald Subaru's Impact at Don Bosco Cristo Rey - Layla F
The team at Fitzgerald Subaru is truly committed to making a difference in their community. Since Don Bosco Cristo Rey opened in 2007, Fitzgerald Subaru has been a proud corporate partner and job team supervisor. Over the years, Fitzgerald Subaru has furthered DBCR's vision of developing leaders who will succeed in college by employing and mentoring more than 50 students. Our students have gained valuable professional experience, such as event planning, office management, and relationship building because of the individuals on Fitzgerald's team. Fitzgerald Subaru believes so much in our students, they have even hired four of our alumni in full-time positions after graduation. Fitzgerald Subaru is always actively looking to get involved at our school. They attend events, check in with their student workers, and provide scholarships for students' tuition. They truly are making education available to the kids in their community. We aren't able to make the impact we do without amazing partners like Fitzgerald Subaru of Gaithersburg and Rockville. We are beyond grateful for their support.
---
Fitzgerald Subaru Helps 8 Animals Find Homes! - Andrea M
The team at Fitzgerald Subaru goes above and beyond to support the Humane Rescue Alliance's community of animals and the people who love them. We were fortunate to partner with Fitzgerald Subaru at the October 12th Subaru Loves Pets event. It was a fantastic day, and eight animals were adopted in loving homes! The Fitzgerald team was generous throughout the entire process. They actively promoted the event, filled the room with enthusiastic adopters and supporters, provided our volunteer team with breakfast, and actively worked with the dogs throughout the day. We are grateful for the support of Fitzgerald Subaru who continues to help our animals find loving homes and help pet owners access critical resources to keep their animal family members healthy and well.
---
Fitzgerald Subaru Gives Back at Light The Night! - Jenn B
The Leukemia & Lymphoma Society (LLS) would like to recognize and thank Fitzgerald Subaru of Gaithersburg and Rockville for supporting our local Light The Night Walk in Rockville, Maryland for a third year in a row! Over these past few years, the Fitzgerald Subaru team has helped spread our mission of curing blood cancers to their staff, customers, local business partners, and local hospitals through Light The Night and Subaru Cares blanket deliveries, while raising an incredible $12,500+ for our Light The Night campaign! Funds raised for Light The Night go towards the three pillars of our mission: research, patient access, and policy and advocacy. Since 2017,51 new blood cancer treatments have been approved by the FDA, and 45 of these were directly funded by LLS. We aren't able to make the impact we do without amazing partners like Fitzgerald Subaru of Gaithersburg and Rockville. This year specifically, Fitzgerald Subaru increased their presence in the local community at our Rockville Light The Night Walk by agreeing to be our Red Lantern Holder. Two employees from the Rockville and Gaithersburg locations came up on stage, had Subaru Fitzgerald's story read to all of our participants, and led the lighting of our red lanterns, which are for anyone who supports LLS's mission. It was absolutely beautiful, and we are so thankful for Fitzgerald Subaru's commitment to this community and to Light The Night.
---